AUTEL 2023 MaxiSys Elite II PRO Diagnostic Tool ECU Programming Coding Scanner Auto Scanner
Autel MaxiSys Elite II PRO with 2 Years Free Update, 2023 Top J2534 ECU Programming+Coding, 38+ Service Functions, Active Test Bi-Directional Scan Tool
Upgraded Version of MS908S Pro/MK908P
MaxiSYS Elite II Pro
The MaxiSys Elite II Pro is a 9.7-inch touchscreen advanced diagnostic tablet powered by an Octa-core processor with 128GB of storage memory running on the Android 10 operating system. Includes Bluetooth-enabled MaxiFlash VCI/J2534 pass-thru programming device. The MaxiSys Elite II Pro rapidly performs every job, from comprehensive vehicle diagnostics & analysis to advanced ECU programming.
Upgraded Version of Elite II. Global Version. You can use Elite II PRO worldwide.
The most extensive complete system coverage for more than 80 US, domestic, Asian and European makes and models
Multi-language: English, French, German, Dutch, Polish, Swedish, Korean, Japanese, Russian, and Italian.
Secure Gateway Access: Authorized FCA SGM Access with AutoAuth Account
Intelligent Diagnosis: Technical Service Bulletin (TSB), DTC Analysis, Repair Assist, Repair Tips, and Relevant Cases.
2-Year Free Update Online
Enhanced Diagnostic Reports: PreSCAN & PostSCAN & WiFi Printing
New VCI Protocols: DoIP/CAN FD
Auto VIN & Scan VIN & Scan License & Remote Desk
Compared with Autel Elite II, Elite II Pro Upgraded Hardware:
Android 10 Operating System & 9.7" Touchscreen (1536*2048)
Extended Functions (with a purchase additionally):
a: Work with MaxiVideo MV108 Inspection Camera: Connect with MV108 / MV108S borescope to enable up-close visual inspections in confined areas, such as engine cylinders.
b: Work with MaxiBAS BT506 for Battery detection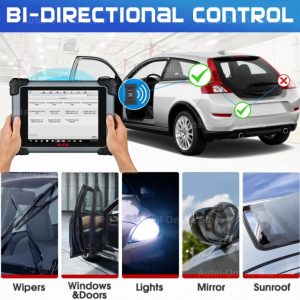 Autel MaxiSys Elite II Pro Features:
1. The most extensive complete system coverage for more than 80 US, domestic, Asian, and European makes and models
2. Exceptional OE-Level functionality from comprehensive OBDII diagnostics & services to advanced ECU coding and programming
3. Uniquely integrated vehicle programming capabilities working with an SAE J2534-1 & -2 compliant vehicle programming pass-thru interface
4. Technical Service Bulletin search listing
5. Guided procedures with Repair Assist and Recommended Solutions
6. Automatic system and software updates with real-time push message notifications via the internet
7. Instant remote control tech support anytime, anywhere
8. Interactive Data Logging sessions enable direct contact with Autel Support for first-hand troubleshooting of diagnostic bugs and errors
9. One-stop multitasking designed for ideal management of workshop operations to keep all data files, customer info, and vehicle records well organized
10. Unique ergonomic design with rubberized outer protection and a rugged internal housing
Support a total of 38+ kinds of special functions, including:
Hot Maintenance Service
This Autel advanced diagnostic tool Elite 2 Pro offers 38+ maintenance functions for professional mechanics/technicians & large-scale repair shops to do fast & accurate repairs and maintenance, covering 99% of workshop needs and being updated constantly to cover the latest vehicles.
The 38+ maintenance functions include the 26 hot resets/matching/calibrations/initializations functions and various advanced special functions for different models, significantly improving the work efficiency:
● Oil Reset – Reset the oil change calculator in the engine and automatic transmission
● EPB – Replacement of brake pads on vehicles with an electric parking brake
● SAS – Adaptation of the sensor to the angular position of the steering wheel
● DPF – Regeneration of diesel particulate filter
Brake Bleed – ABS Brake Bleeding
● IMMO – Disable any lost keys and add new keys. *ONLY for vehicles with low-grade anti-theft systems. Compatible with GM, Ford, Toyota, Honda, and other 56 brands or models.
● TPMS – Battery registration and reset
Seat Calibration – Calibrate the memory in replaced or repaired seats
● Airbag Reset – Resets the airbag data to clear the airbag collision fault indicator
● A/F Reset – Set or learn Air/Fuel ratio parameters
Gearbox Reset – Help complete the gearbox self-learning to improve gear shifting quality
● Suspension Reset – Adjust the vehicle body height sensor for level calibration
● BMS – Battery registration and reset…
Brake Reset,
Oil Maintenance Reset,
Steering Angle Reset,
Battery Matching,
ABS Bleeding,
Electric Throttle Relearn
TPMS Reset Database,
DPF Regen,
AC System, Relearn/Initialization,
Adaptive Front Lighting,
Adblue Reset,
Air/Fuel Reset,
Air Level Calibration,
Coolant Bleed,
Crank Position Sensor Adaptive Learning,
EGR Adaption,
Engine power balance Monitoring,
GAS Particulate Filter Regeneration,
Gearbox Relearn,
High Voltage Battery,
IMMO Programming,
Immobilizer Reset,
Injector Coding
Intelligent Cruise control system,
Language Change,
Motor Angle Calibration,
NOX Sensor Reset,
Seat Occupancy Calibration,
Stop/Start Reset,
Sunroof Reset,
Tire Reset,
Transport Mode,
Windows Calibration,
FRM Reset,
VGT Relearn,
ECU Reset,
Clutch Adaption
…and more
Specifications:
Processor: Octa-core Processor:
4x 2.2 GHz(A73)
4x 1.8 GHz(A53)
Memory: 4GB RAM & 128GB On-board Memory
Display: 9.7 inch LED capacitive touch screen with 1536*2048 resolution
Connectivity:
Wi-Fi (802.11a/b/g/n/ac)
BT V5.0 + BR/EDR
GPS
USB 2.0:(2 USB HOST Type A, 1 USB mini device)
HDMI 2.0
SD Card
Camera (rear): Rear: 16 Megapixel, AF with Flashlight
Power and Battery: 11000 mAh 3.7 V lithium-polymer battery
Charging via 12 V AC/DC power supply with the temperature between 0°C and 45°C
Input Voltage: 12V (9-24 V)
Operating Temp: 0 to 50°C (32 to 122°F)
Storage Temp: -10 to 60 (14 to 140 °F)