LAUNCH CRE300 Car Code Reader Obd2 Scanner Diagnostic Tool
CRE300  is an evolutionary code reader for both professional technicians and DIYers. It supports Smart (Auto-Detect) Diagnosis, Manual Diagnosis, Full OBD2 modes, One-Click Update, Diagnostic History, Diagnostic Feedback, DTC Library, Real-time Battery Voltage Display, Three-system diagnostics, and other functions, coping with frustrating problems, saving your trips to the repair garage.
Full ODB2 Modes
Read Codes: report generic and manufacturer-specific codes;
Clear Codes: reset the trouble code to turn off the malfunction indicator light;
Live Data: graphically show current powertrain diagnostic data;
Freeze Frame: check the raw data recorded when a trouble code was set;
O2 Sensor Test: show the last results of the O2 sensor test in a graphic display for troubleshooting;
I/M Readiness Status: check whether the emissions-related systems are ready for smog test;
On-board Monitor Test: read test results for on-board diagnostic monitoring tests of specific components;
Component Test: perform bidirectional control of an on-board system or test (currently limited to some evaporative emissions systems for leak testing);
Vehicle Information: provide VIN (Vehicle Identification Number), CID (Calibration ID), and CVN (Calibration Verification Number)
CRE300 scan tool surpasses its competitors for its responsive speed (with the latest android system), high efficiency (one-click update via Wi-Fi), vehicle coverage (compatible with vehicles from 1996 to 2021), and convenient operation (touchscreen). The LAUNCH CRE300 code reader is suitable for 1000+ car models, domestic and international mainstream models and compatible with 32+ Brands. You can check the attached Application Guide –Car Brands before purchasing.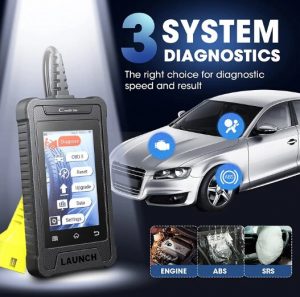 Engine System Diagnostics
The CRE300 check engine code reader helps detect the engine ignition, fuel injection, air, and fuel ratio, and exhaust emission conditions in the engine system, to improve vehicle performance, save energy, and reduce exhaust emission.
ABS Diagnostics
ABS (anti-lock braking system) enables the wheels of a vehicle to maintain tractive contact with the ground, helping drivers retain steering control by preventing unexpected skidding of the car on slippery roads, thus reducing the risk of crashing.
SRS Diagnostics
A supplemental restraint system, an extra safety measure commonplace in vehicles, is designed to improve occupant protection in some ways of crushes. Check the SRS (Airbag) system to ensure passenger safety in certain collisions.